Sat., Nov. 9, 2013, 12:38 a.m.
GU Students Stop Robber, In Trouble
When a Gonzaga University student chased a belligerent homeless man from his front door at gunpoint, he and his roommate didn't imagine the incident might result in their expulsion. But seniors Erik Fagan and Daniel McIntosh may both be kicked out of school after they were found in violation of the school's weapons policy, which prohibits students from having guns in any university-owned building. The students live in student housing at 207 E. Sinto Ave., apartments owned by the university even though they're considered to be off campus/Kaitlin Gillespie, SR.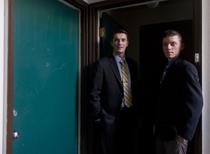 (Jesse Tinsley SR photo: Erik Fagan, left, and Daniel McIntosh stand in the doorway Friday at their apartment in the Gonzaga University neighborhood.)
Question: Should these two Gonzaga students be disciplined for using a firearm to stop a potential robber?
---
---