State Sen. Russ Fulcher, pictured, (a possible gubernatorial candidate) and Sen. Steven Thayn (a possible superintendent of schools candidate) will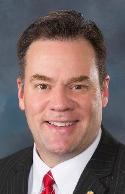 be featured at the first MP2 pre-legislative tour in Coeur d'Alene next Monday. MP2 secretary Melissa Thomas told a Berry Picker that the event is to discuss possible legislation that will come before the 2014 Legislature, not for campaign purposes. In an email, Thomas explained the possible topics this way: "This will be a panel discussion with local legislators previewing legislation dealing with: Common Core, County Indigent Fund, Medicaid Expansion, Obama Care, and other education issues. MP 2 is an effort to move from our current unstable system that relies on the Redistribution of the wealth to a stable system that focuses on production, empowers the people with choices and resources, and empowering of families so they can provide their own social services." Appearing with Fulcher and Thayn, Thomas said, will by District 2 legislators Rep. Vito Barbieri and Sen. Steve Vick. The event will be staged at 7 p.m. Monday in the North Idaho College Student Union Building. MP2 Facebook page here.
Question: Sounds to me like the Tea Partyers are starting early for the 2014 GOPrimary season. Thoughts?