Mon., Nov. 11, 2013, 8:40 a.m.
GU Students w/Gun Get Probation
With the national media spotlight on them, two Gonzaga University roommates put on school probation for violating a weapons policy said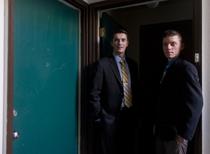 they'll appeal the sanction. Seniors Erik Fagan and Daniel McIntosh faced suspension or expulsion after one of them chased an aggressive intruder from their apartment at gunpoint. Instead, they'll remain on probation for the rest of their time at Gonzaga, the university informed them Sunday by letter. "It was a little bit of a surprise," Fagan said Sunday. "We're happy that we are still here at Gonzaga. Our objective was to remain here because we do love this school and love being here." But he and McIntosh plan to appeal their probations, he said/Scott Maben, SR. More here. (Jesse Tinsley SR photo: Erik Fagan, left, and Daniel McIntosh stand in the doorway Friday at their apartment in the Gonzaga University neighborhood.)
Question: Do you agree with this punishment?
---
---