Mon., Nov. 11, 2013, 9:56 a.m.
Legislator Loses Concealed Gun Right
The story that has Idaho political circles buzzing this morning is about a state lawmaker from Boise whose concealed weapon permit has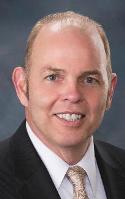 been revoked, after he lied twice on his application – failing to mention a withheld judgment and guilty plea to a change of assault with intent to commit rape in Florida in 1974, a felony. Rep. Mark Patterson, R-Boise, a first-term lawmaker, told Idaho Statesman reporter Dan Popkey, "I was a young kid." He was 21 at the time. Patterson was charged in 1974 with forcible rape, after the victim said he forced her to have sex twice and threatened to have his Doberman pinscher attack her if she refused, according to police reports/Betsy Russell, Eye on Boise. More here.
Question: Time to put a fork in this guy's political career?
---
---