TUESDAY, NOV. 12, 2013, 9:20 A.M.
Hall: Don't Need 'Cure' For Baldness
If you were to encounter me on a gray day when the sunlight bouncing off my head isn't blinding you, you would recognize that I have lost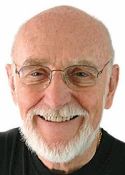 most of my hair. And if you are as kind a person as most of my readers, it might gladden your heart to learn that science suddenly appears to have a strong chance of "curing" baldness.There has been a breakthrough by those trying to create hair gardens on the heads of people like me (not to mention men who can't grow armpit hair and suffer emotionally from naked armpit syndrome). Notice up there in that second paragraph that I placed the word "curing" baldness in quotation marks. That signals my resistance to the common belief that baldness is an illness or a bodily failure. But don't cry for me, my friends. Baldness in an adult male, as I have explained here so many times before, is a natural, healthy condition/Bill Hall, Lewiston Tribune. More here.
Question: Are you bald and beautiful?
---
---