Wed., Nov. 13, 2013, 5 p.m.
Joint Brings SoCal Burgers To CdA
Gary Kender talks about food like he's telling a love story. He links good food with good memories, whether he's recalling a recent meal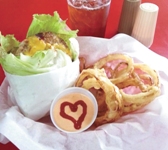 at a Spokane restaurant, cooking meals for his five kids or recounting the steak dinner he shared with his wife on their recent honeymoon. He's also stoked on all the ideas he has for The Surf Shack — his burger place in Coeur d'Alene — to make it into a franchise that serves wholesome burgers and plays up the '50s surf culture theme. "This is my passion in life, as twisted as it may seem to some people," he says. As a surfer originally from Long Beach, Calif., Kender moved to Idaho in 1991 and started a place in Hayden called Schoonerville. After 13 years he sold that and opened Longboard Burgers inside an A & D Mini Mart in Coeur d'Alene. For the few years it was open, Longboard was always packed, he says. But then Kender lost the business in a divorce and Longboard closed/Jo Miller, Inlander. More here. (Photo: Inlander)
Question: Is there room in Coeur d'Alene for a southern California-style burger joint?
---
---