Wed., Nov. 13, 2013, 3:23 p.m.
Stranger Tries To Entice 13YO Girl
Coeur d'Alene Police Officers are in the 7700 block of Joanna Drive (Atlas & Prairie). looking for a male suspect that approached a 13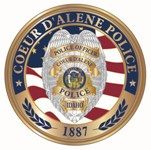 year-old female. At about 2:40 p.m., the child reported, she walked out to her mailbox near her home. The victim said a white, older, utility type van stopped near her on the street. A male described by her as a light-colored Hispanic, approximately 5'10, and wearing a dark colored beanie on his head, started walking toward her. The female said his direction was straight toward her not the mailboxes. She became frightened and started to walk fast toward her house. She said he started walking faster toward her. The victim said she began to run toward her house, and he ran after her. She ran into her back yard and started beating on the back door. Her mother opened the door and let her into the residence. More below.
Her mother did not see the male leave, or get a look at the van. The victim said she did not see a front license plate on the van. She said it has dark windows and a curtain behind the front seats.
Anyone with any information on this case is asked to call the police Department at 208-769-2320 or contact us on-line at policetips@cdaid.org/Sgt. Christie Wood, Coeur d'Alene Police Department.
---
---