Thu., Nov. 14, 2013, 8:44 a.m.
Craig: FEC Penalty Unfair
Former U.S. Sen. Larry Craig said Wednesday federal election regulators are being unduly harsh by demanding he pay nearly $360,000 in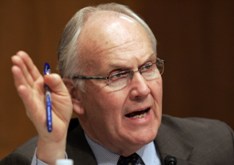 fines and restitution for tapping campaign accounts for his legal defense following his 2007 arrest in an airport bathroom sex sting. In October, the Federal Election Commission told U.S. District Judge Amy Berman Jackson in Washington, D.C., the Idaho Republican should pay $140,000 in fines and return nearly $217,000 to his campaign, arguing he misused donor's money to fund a personal expense. In a 26-page rebuttal, Craig contends the proposed penalties are "harsh, unjustified remedies," that he doesn't have the financial resources to cover the total — and that he and his lawyers always acted in good faith/John Miller, Associated Press. More here. (AP file photo)
Question: Are you as amazed as I am that Larry Craig keeps his sordid downfall in the public eye by his continuing legal fight?
---
---