Thu., Nov. 14, 2013, 8:51 a.m.
Obama Offers Fix For Canceled Plans
President Obama said Thursday that Americans can keep canceled health insurance policies for a year as companies and consumers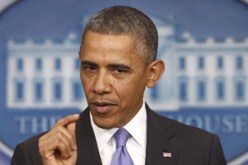 adjust to the new demands of the health care law. In the coming weeks, insurance companies must also notify customers of what those policies lack, and of options consumers have for better coverage under the new law, Obama said in a statement at the White House."Americans whose plans have been canceled can choose to re-enroll," he said. The president responded to criticism from lawmakers and Americans who have received cancellation notices since the Obamacare law came on line last month, a period also marred by a malfunctioning website/USA Today. More here. (AP photo)
Question: Did the president make the right move by offering to extend private plans that don't meet Obamacare specifications through 2014?
---
---