Thu., Nov. 14, 2013, 8:47 a.m.
Poll: Christie, Clinton In Virtual Tie
A week after his landslide re-election, a new poll indicates Republican Gov. Chris Christie of New Jersey would be locked in a virtual tie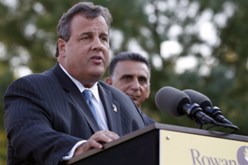 with former Secretary of State Hillary Clinton if the 2016 presidential election were held today. Forty-three percent of American voters support Christie, while 42% back the former secretary of state, according to the Quinnipiac University poll. The one percentage point margin – a statistical tie – shows a much closer race between the two possible candidates than previous Quinnipiac polls this year, when Clinton held a steady advantage over Christie. Last month, Clinton was ahead of Christie by 13 points, 49%-36%/CNN. More here. (AP file photo, of Gov. Chris Christie)
Question: Do you hope someone as popular and charismatic as Christie can survive Tea Party challengers in good shape to take on a Democrat like Hillary Clinton in 2016?
---
---