Fri., Nov. 15, 2013, 12:11 p.m.
Marc: Same Sex Marriage Inevitable
Hawaii recently became the 15th state to legalize same sex marriage when Gov. Neil Abercrombie – that's him on the left of the photo –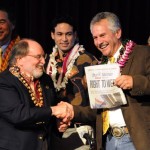 signed legislation passed rather handily by the state legislature. On Thursday a state court judge in Hawaii upheld the new statute against an 11th hour effort to prevent it from going into effect. It is expected that the first same sex marriages in the nation's 50th state will take place on December 2nd. The remarkable political turn of fortune for the same sex marriage issue has been stunning, particularly when you consider that as recently as 2004 national Republicans advanced a policy agency that placed opposition to gay marriage at the center of many statewide races/Marc Johnson, The Johnson Report. More here.
Question: Do you believe same-sex marriage is inevitable throughout the United States?
---
---