Wed., Nov. 20, 2013, 10:16 a.m.
Statesman: Staben Good Fit For UI
There are a lot of reasons we like the choice of Chuck Staben as the 18th University of Idaho president, but chief among them is the fact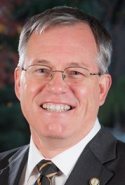 that he told students and faculty during an October visit that, if chosen, he would consider this a great fit and the final fit of his career. This is encouraging because the turnover at Idaho's land grant school has been as dizzying as the pace at which a new president will have to commit to categorically elevate an institution that suffers from areas of underachievement. We especially like what Staben, provost and vice president of academic affairs at the University of South Dakota, told the U of I Argonaut during his visit last month: that the school needs "more students, more graduates, more research and greater engagement"/Idaho Statesman Editorial Board. More here.
Question: Does anyone out there really believe that this will be the "final fit" for Staben's career? (See: Dennis Erickson)
---
---