Fri., Nov. 22, 2013, 12:02 p.m.
CdA Rolls Out Red Carpet
Coeur d'Alene got a little taste of Hollywood on Nov. 13 during the red carpet world premiere of "Without a Ladder." Tuxedo-clad gentlemen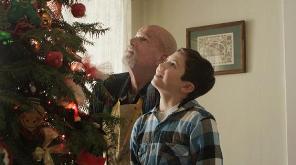 and ladies in their finest evening wear milled around the red carpet at Regal Cinemas Riverstone until the sound of drums alerted them that the film's stars were on the way. Drummers from the Coeur d'Alene High School band, followed by jugglers from Sorenson Magnet School of the Arts and Humanities, led the way. Then a white horse-drawn carriage delivered actors Jack Bannon, Tiger Ashtiani, Leeja Junker and Kelly Eviston with a flourish. The premiere was the first such event for the Northwest Independent Film and Video Entertainment Society, or kNIFVES, the organization behind the movie. "Without a Ladder" tells the story of curmudgeonly widower Mr. Dobbs (Bannon), whose first Christmas without his beloved wife is eased by the presence of a boy (Ashtiani) who shows up on his doorstep/Cindy Hval, SR. More here. (Photo special to SR: Bruce Twitchell)
DFO: You can see Without a Ladder at the Hayden Discount Theatre this weekend.
Question: What's your favorite Christmas movie?
---
---