Fri., Nov. 22, 2013, 10:27 a.m.
Old Muffler Shop To Be Tap House
The design work is ready and some construction work has already been started on Downtown Coeur d' Alene's next exciting new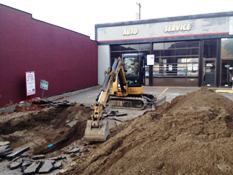 restaurant. For the last few years, a small auto repair shop, has sat among the primarily tourist driven Sherman Ave. strip of Downtown Coeur d' Alene. But only a few months back this building's tenant , known as TNT Mufflers , closed up shop leaving the building vacant. A plan was hatched to add onto the building creating a small bar and a coffee shop up front. Those plans appear to have changed, and now plans are moving forward to use the entire space for a new taphouse style restaurant/Inland Northwest Business Watch. More here (check out illustration of planned restaurant). (Photo from Crafted Taphouse Facebook page)
Question: Is this the type of eatery that interests you?
---
---