Fri., Nov. 22, 2013, 4:59 p.m.
Viks Fight For State 5A Title Tonight
It was the last of three straight losses and part of a 1-3 start for the Coeur d'Alene football team. Vikings coach Shawn Amos knew that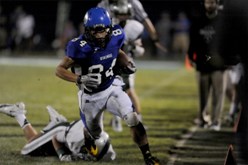 scenario could take place. That's why he packed the front end of his team's schedule like he did – with difficult opponents and long, excruciating road trips. The last of those trips was a trek to the southeast corner of Idaho where CdA jumped out to a 21-3 lead over perennial 5A power Highland. Whether it was the toll of the road trips, the toll of playing another state playoff-quality opponent or perhaps a collec- tive exhale after building the 21-3 lead, something gave way. Highland rallied to upend CdA 24-21. Seven consecutive wins later and the Vikings (8-3) will meet No. 1-ranked Highland (11-0) in the state championship final tonight at the Kibbie Dome in Moscow. Kickoff is at 7/Greg Lee, SR. More here. (SR file photo: Viking Addison Johnson (84) runs the ball against Skyline earlier this fall)
Question: Predict the outcome?
---
---