Mon., Nov. 25, 2013, 4:30 p.m.
Bill Pushes Telemarketer Crackdown
Sen. Charles Schumer (D-N.Y.) announced Monday that he would introduce legislation to increase the penalty for violators of the "Do Not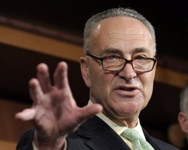 Call" law. "When it comes to the loophole-exploiting robocall industry, we need to fight fire with fire — and that means higher penalties, jail time, and better technology to fight the spammers who have ruined countless family dinners, sporting events, and other family gatherings," Schumer said. Under current law, telemarketing companies are prevented from using machines that automatically dial numbers and then play prerecorded telemarketing calls, unless given written permission by the recipient/Ramsey Cox, The Hill. More here. (AP file photo, of Sen. Charles Schumer)
Question: Are you on the do-not-call list? Have you found it effective?
---
---