Tue., Nov. 26, 2013, 5:18 p.m.
Update: CPD Finds Missing 10YO Boy
Update: Coeur d'Alene Police Chief Ron Clark located runaway Jeremy M. Yaken in the 1700 block of North West Boulevard. Officers received a tip of his whereabouts from an alert citizen that monitored the Coeur d'Alene Police Facebook page. Chief Clark spotted Yaken and was able to convince him not to run from him.
Coeur d'Alene police officers are currently searching in the downtown area for a missing ten year-old boy. Jeremy M. Yaken fled from his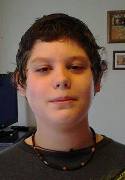 mother's vehicle at approximately 4:20 p.m. while she was parked in the lower lot of City Hall near the library. Jeremy was last seen running toward the wooded area of Tubbs Hill. Jeremy has mental health issues and is considered an endangered runaway. He is described as 5 feet tall, 110 pounds, medium length brown hair, blue eyes, wearing a grey t-shirt, blue jeans and snow boots. He does not have a jacket on. Attached to this release is a recent photo of Jeremy. If anyone has any information on his whereabouts they are asked to call Coeur d'Alene Police at 208-769-2320. Sergeant Christie Wood Public Information Officer Coeur d'Alene Police Department.
---
---