Thu., Oct. 3, 2013, 8:17 a.m.
Debate: Evans, Fillios Square Off
Item: Evans, Fillios talk city salaries at candidates' forum/Jeff Selle, Coeur d'Alene Press
More Info: The first question from the Coeur Group panelist, which sponsored the event, dealt with how the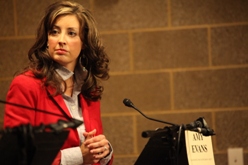 candidates would repair what some believe is a dysfunctional City Council. Fillios said he would restore transparency and oversight first. "Whether that be toward the question of urban renewal or the budgets," he said. "Budgets are routinely rubber stamped. They are not examined for detail." He pointed to the parks budget which he said does not include any line items. Evans, pictured, said it is important to have fresh voices and fresh faces on the council and the city should listen to all of the people in the community, as well as evaluate efficiencies in the budget and capitalize on those. "I am a fresh face and I am a fiscal conservative that will look at the budget carefully and look at all efficiencies that are to be had," she said. (Photo: Duane Rasmussen)
DFO: When asked by the Coeur Group to say how he differs from his opponent, Fillios said he's a conservative fiscally and socially, while his opponent if a progressive liberal. Evans didn't respond to that jab, stating only that she thought Fillios was a nice man whom she'd just met. Thoughts?
---
---