Thu., Oct. 3, 2013, 8:30 a.m.
Debating 'Ordinary & Necessary'
Item: Candidates' Forum: Copeland, Hebert, McEvers address public votes/Jeff Selle, Coeur d'Alene Press
More Info: Candidates were also asked when it is appropriate to hold a public vote. "That's a can of worms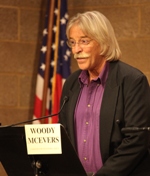 isn't it?" Copeland said. "A public vote is wildly unrealistic for everything that everyone doesn't agree on." She said it would have to be a situational decision based on the circumstances for her. Hebert said when it is an extraordinary project, such as McEuen Field, the public should be consulted. "If it costs a lot of money it should be put to a bond, so the people can choose if they want to finance it," Hebert said. McEvers, pictured, said it's all about the bonding the way he understands the rules. "As far as McEuen goes, extraordinary, necessary, how do we define that?" he said. "Come up with a good plan, let's spin it around, but right now that is the way it goes." (Photo: Duane Rasmussen)
DFO: Hebert was my pick to be the next Steve Adams.
Question: "Ordinary and necessary" were the buzz words for the Reagan Republican candidates. I got the impression that they interpreted that to mean cops, firemen, roads and sewer, but not parks or anything else that makes Coeur d'Alene the special place that it is. Do you consider parks "ordinary and necessary" expenses for the Coeur d'Alene?
---
---