Thu., Oct. 3, 2013, 9:04 a.m.
McEuen Project Passes Halfway Point
City workers here are gearing up for a public open house event on the east side of McEuen Park to be held a week from Saturday on Oct. 12. City staff briefed the Coeur d'Alene City Council Tuesday night on the status of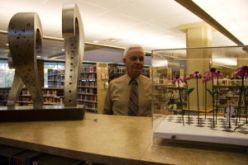 the McEuen Park makeover. Dennis Grant, engineering project manager, said the contractors are a little more than halfway through the budget and allotted days for construction. Of the $15 million budget about $8.9 million or 57 percent has been spent. Likewise 52 percent, or 194 days, of the contracted days of work have passed. Overall, he said the project is on track. "Nov. 19th is the next key date to keep a watch on to open up Front Street," he said. "The contractor is doing a good job." As for the park itself, Grant said the basketball courts are complete, the tennis courts are nearly completed and the Splash pad work is underway/Jeff Selle, Coeur d'Alene Press. More here. (CdA Press photo: Coeur d'Alene Recreation Director Steve Anthony explains the process the city will use to select the next piece of public art for McEuen Park's Third Street entrance)
Question: When did you last check out work on the new McEuen Field?
---
---