Thu., Oct. 3, 2013, 9:32 a.m.
Terrorism Memorial Added To Plaza
A new War on Terrorism memorial will be dedicated and unveiled on Saturday at 1 p.m. in the Ronald D.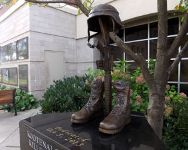 Rankin Veterans Memorial Plaza at the Kootenai County Courthouse. The public is invited. State and local officials are slated to speak at the event. Members of the Idaho Army National Guard are expected to attend. Kerri Rankin Thoreson, plaza curator, began working on the project early this year. In 1998 an 8-foot-tall black granite Killed in Action monument was placed in the plaza. It bears the names of local soldiers who died in the Spanish-American War, World War I, World War II, Korea and Vietnam. The new monument includes a bronze battlefield cross. It includes the names of Nick Newby and Nate Byers/Coeur d'Alene Press. More here.
Question: When did you last visit the Rankin Veterans Memorial Plaza?
---
---