FRIDAY, OCT. 4, 2013, 8:16 A.M.
Edit: Longo Rides Off Into Sunset
You can argue all you want about who's the most powerful person in Kootenai County, but until one week ago,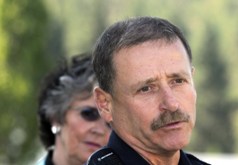 here would have been our vote: Wayne Longo. For the past six years, Longo led the largest municipal law enforcement agency in North Idaho, the Coeur d'Alene Police Department. With all due respect to fellow pen-wielders, real power resides in the hands of the men and women who are authorized to use deadly force on a daily basis. With that power comes tremendous responsibility, a burden Longo carried gracefully, never losing his humanity or his humility/Coeur d'Alene Press Editorial Board. More here. (SR file photo: Jesse Tinsley)
Question: Are you a Wayne Longo fan?
---
---