Fri., Oct. 4, 2013, 4:53 p.m.
No Cruel Shoes
It's a new-shoes kinda day. I think my choice yesterday at Big R is gonna turn out okay. The poor clerk earned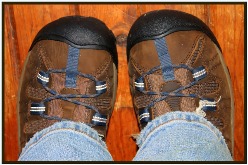 her money yesterday after I announced to her that I had big feet and needed a new pair of Merrell's. After all, I'd worn my last pair, purchased up at Far North Outfitters two years ago had done me well. Most comfortable walking shoes I'd ever owned. Part of that could be that I've finally learned to put comfort over pride. It's not been easy living a lifetime with big feet. I always look at the other shoes in the room and pray that nobody's looking back at mine. Cuz they're big and there's hardly anything stylish them/Marianne Love, Slight Detour. More here.
Question: When do you know it's time to buy new shoes? And/or: Do you have trouble finding comfortable shoes for your feet?
---
---