Fri., Oct. 4, 2013, 2:23 p.m.
Show Biz Comes To Post Falls
When Marvin Tyacke learned that the "American Romance" thriller was going to be filmed south of Post Falls,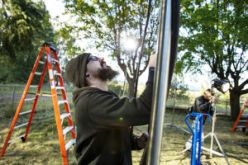 he wanted to help out in any way he could. The retired Post Falls senior was persistent in his pursuit, making multiple trips on windy Blossom Mountain trying to find the filming site and making several calls to those involved. When Tyacke finally hit paydirt, he found a welcoming crew and was invited to stay for lunch. "This lady came up to me and said, 'Would you like to have a lunch, partner?'" he said. "I said, 'No, I'm OK, but I'd like to see Daveigh (Chase, the lead actress in the movie) if she's here." Turned out that Tyacke was speaking to her/Brian Walker, Coeur d'Alene Press. More here. (Gabe Green Coeur d'Alene Press photo: Electrician for the film "American Romance" Scotty Frazer adjusts a light stand Thursday between shoots)
Question: Have you ever worked as an extra in a local movie? Which one?
---
---