Tue., Oct. 8, 2013, 8:46 a.m.
Crisis In Washington, Raul Flies Home
Idaho Congressman Raul Labrador is the face of the GOP insurrection that has triggered the latest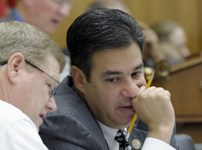 government shutdown - and, potentially, debt ceiling - crisis. With good reason. At the start of the year, he was among 16 House Republicans who withheld their support from House Speaker John Boehner. By summer, he was among 80 Republicans who signed North Carolina Congressman Mark Meadows' letter threatening to close the government unless Obamacare was blocked. Then he joined 150 co-sponsors of Georgia Rep. Tom Graves' bill to take that step - a measure that ultimately forced Boehner's hand. Plus you can't swing a dead cat without bumping into Labrador. Anytime there's a story about the government shutdown, he's a go-to source.There he was on "Meet the Press" last week/Marty Trillhaase, Lewiston Tribune. More here. (AP file photo)
Question: I'd like to see Labrador pay as much attention to Idaho as he does to his appearances on "Meet the Press." How about you?
---
---