Tue., Oct. 8, 2013, 4:25 p.m.
Suspect In Jail For Woman's Slaying
The male suspect in custody for Monday's apparent murder in Post Falls told a family member that he had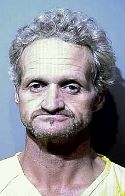 injured his girlfriend, police say. The suspect is Christopher Wayne Thompson, 44, of Post Falls. He was booked into the Kootenai County Jail for second-degree murder with no bond. During his first appearance today, the charge was amended to first-degree murder and his bond was set at $1 million. The victim was identified by police this afternoon as Deborah Willette, 57, Post Falls."A family member (of Thompson's) was concerned and called us," Post Falls police Chief Scot Haug said. "When we responded we found her dead in the apartment (on the floor). "There's a lot of trauma to the body. "His comments to his relatives is what led us to go there"/Brian Walker, Coeur d'Alene Press. More here.
---
---