Wed., Oct. 9, 2013, 1:20 p.m.
McEuen Field Open House Saturday
Exciting changes are under way in downtown Coeur d'Alene and the public is invited to check it out. Crews are rapidly transforming McEuen Park and Front Avenue into an extraordinary gathering spot in the heart of the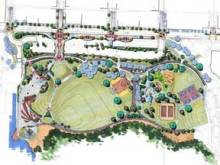 Lake City. The public this Saturday will be able to tour McEuen Park and witness firsthand the remarkable makeover during an open house. This is a great opportunity for the community to fully understand the magnitude of the project and the favorable impact it will have on the area. Park designers, architects, city officials, Centennial Trail volunteers, and engineers will be among those on hand to show off the amenities and answer questions. The public is welcome to stroll the site on their own, but certain areas under construction will be closed/Keith Erickson, Lake City Development Corp. spokesman. More here.
Question: Should park detractors running for city office or holding city office attend the McEuen Field open house?
---
---