Thu., Oct. 10, 2013, 8:22 a.m.
Last Chance To Pick McEuen Art
The public has an opportunity to weigh in on the next sculpture that will be erected in McEuen Park, but you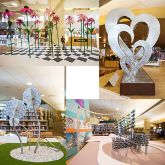 better hurry because voting will wrap up after the McEuen open house on Saturday. The four finalists are on display in the upper level at the Coeur d'Alene Public Library, along with comment forms for public input. The city of Coeur d'Alene's Arts Commission is planning to select the winner beginning next week. The winning piece will be located at the Third Street entrance of the park. The city posted "a call for artists" on an Internet site called "CAFE," or www.callforentry.org. Steve Anthony, city recreation director, said the website generated more than 120 submittals/Shawn Gust, Coeur d'Alene Press. More here.
Question: Do you think public art is important?
---
---