Fri., Oct. 11, 2013, 4:32 p.m.
Johnson: Texas Two Step
The junior senator from Texas would not appreciate the comparison, but freshman fire-brand Ted Cruz has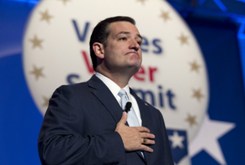 risen higher and faster in the United States Senate than even the legendary Texan Lyndon Johnson. It took LBJ only two years in the Senate to win election as minority leader and then two years later he was the top Democrat in the country, standing astride the Senate as majority leader, cutting deals with Ike. Cruz is on a faster trajectory. In the considered opinion of Tony Perkins, one of the leaders of the social conservative wing of the GOP, Sen. Cruz "has become a de facto leader of the Republican Party. He is what people are looking for. Somebody who will stand up and say, 'This is what I stand for, this is what I believe'"/Marc Johnson, The Johnson Report. More here. (AP file photo)
Question: What are your thoughts on Ted Cruz?
---
---