Mon., Oct. 14, 2013, 8:27 a.m.
Souza, Widmyer Debate Before Dems
A few jabs were traded between Coeur d'Alene mayoral candidates Mary Souza and Steve Widmyer at the Kootenai County Democrats luncheon on Friday, but Joe Kunka was a no show. Tamara Poelstra, who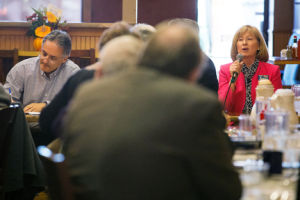 moderated the event, said Kunka did not respond to repeated requests. Souza and Widmyer responded to 17 questions ranging from whether they will support the Arts Commission - which they both said they would - to how they differ from their opponents. Those differences were probably best illustrated when the candidates debated over the city's anti-discrimination ordinance which followed Poelstra's question about their positions on it and whether they believe the ordinance creates a special protected class. Souza said she had a couple of issues with the ordinance. She said the process used to pass the ordinance was rushed, and should have included more public input/Jeff Selle, Coeur d'Alene Press. More here. (Shawn Gust CdA Press photo: Steve Widmyer and Mary Souza debate at the Democratic Club luncheon Friday)
DFO: Souza and Widmyer will debate again today at North Idaho College, from noon to 2 p.m., sponsored by the NIC Republican Club.
---
---