Thu., Oct. 17, 2013, 8:33 a.m.
Speaker: Hate On Rise In America
America's hate and fear measurably grew with the election of the country's first black president. Since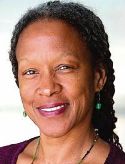 President Barack Obama was elected in 2008, radical anti-government, or patriot, groups increased by 500 percent. The year of the election there were 149. In 2012, the number was 1,360. The Southern Poverty Law Center tracks radical anti-government groups along with hate groups, and organizations with beliefs or practices that attack or malign an entire class of people. The number of hate groups has grown by 67 percent since 2000, according to the center's statistics. Demographic shifts in society, economic insecurity and the election of a black president are some of the reasons for increases, said Lecia Brooks, director of outreach for the center. "Some folks are just not handling it well," she said/Jennifer K. Bauer, Lewiston Tribune. More here.
Brooks will speak about the state of intolerance in the U.S. at 7 tonight at the Lewis-Clark State College Center for Arts & History (in Lewiston) as part of events around its exhibit "Speaking Volumes: Transforming Hate."
Question: Do you see more examples of hate around you today than you did 10 years ago?
---
---