Wed., Oct. 23, 2013, 11:58 a.m.
Spokane Gets Nothing Bundt Cakes
Cake lovers rejoice. Nothing Bundt Cakes, a national chain, has opened its first Spokane franchise and is celebrating with a grand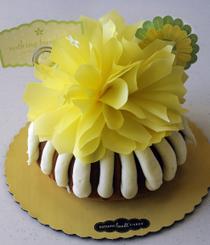 opening on Saturday. Although the bakery on 29th Avenue is the first store in Washington, Nothing Bundt Cakes has deep Spokane roots: Co-founder Debbie Schwetz is a 1975 Lewis and Clark High School graduate and still has family in the area. The inspiration for the Las Vegas-based business came when Schwetz's good friend, Dena Tripp, brought a Bundt cake to her home for dessert. She'd dusted it with powdered sugar. Schwetz wondered why Tripp hadn't used her frosting recipe; Tripp said frosting Bundt cakes is difficult. As the two friends shared the cake, talk turned to business. What if they found a way to pair Schwetz's decadent butter cream cheese frosting with a moist, dense Bundt cake? Would people buy them? Could they open a Bundt cake business?/Cindy Hval, SR. More here. (SR photo: Liz Kishimoto)
Question: What's your favorite cake?
---
---