FRIDAY, OCT. 25, 2013, 8:54 A.M.
Regan & Co Form Anti-ULUC Group
A proposed Unified Land Use Code for Kootenai County has led to the formation of a new group of 25 rural property owners. The Rural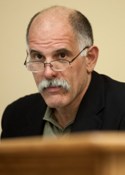 Property Owners Committee hopes to meet with and possibly influence the Kootenai County commissioners and the county's planning commission as those officials work on land use regulations, said Brent Regan, one of the committee members. "The proposed ULUC is foundationally flawed because it doesn't respect the primacy of property rights under Idaho law," Regan said. The group also wants to "publicize and act upon landowner concerns" regarding the ULUC, developed by a consultant, Texas-based Kendig Keast Collaborative. The proposed ULUC should be set aside, according to a position paper signed off on by all the committee members. There are 27 committee members total, two of whom are not rural property owners in Kootenai County/David Cole, Coeur d'Alene Press. More here. (SR file photo, of Brent Regan)
Question: This group reads like the membership list of the local Tea Party. What's next? A proposal to form a land-use advisory board a la Bonner County?
---
---