Fri., Oct. 25, 2013, 4:52 p.m.
Summer Theatre Plans '14 Season
The show will go on in 2014 for Coeur d'Alene Summer Theatre. The Press has learned that Laura Little is the new executive director of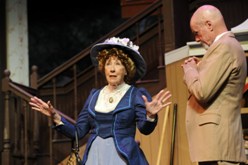 the nonprofit professional theater production company, and shows are being selected for the next season. Little, who produces theater shows locally and on Broadway, is a former CST executive director. Actor Jadd Davis, who hails from Post Falls, will serve as the organization's artistic director. Citing financial difficulties due to low ticket sales, the 46-year-old performing arts organization's board decided in August to suspend operations. The board severed ties with its two full-time employees at the time, longtime artistic director Roger Welch, and Michelle Mendez, the executive director/Coeur d'Alene Press. (SR photo: Ellen Travolta and Jack Bannon in a scene from the 2012 production of "Hello, Dolly")
Question: Anyone out there who doesn't think this is terrific news?
---
---