Tue., Sept. 3, 2013, 5:40 p.m.
64YO Completes Cuba-Florida Swim
Diana Nyad completed a record swim Monday from Cuba to Key West, Florida. She's the first person to do it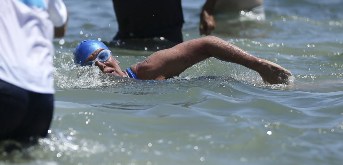 without a shark cage -- and she did it at age 64. We caught up with her the day after her accomplishment. So how did Nyad sleep last night? "Like a baby," she replied, "and I kept waking up and I was smiling." But Nyad said there were moments during her 110-mile swim when the struggle was almost too much -- especially Saturday night, when she became nauseous from swallowing seawater. "Honestly, it was like hell on earth," she said/CBS Evening News. More here. (AP photo: Diana Nyad swims towards shore in Key West, Fla., Monday)
Question: How far can you swim?
---
---