Tue., Sept. 3, 2013, 8:52 a.m.
Hydro Organizers: We'll Be Back
Wave the checkered flag, nearly everyone is calling it a success. Organizers, spectators and Silver Beach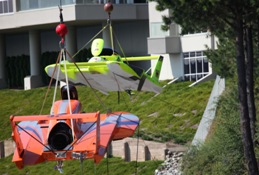 neighbors said Monday the Diamond Cup Regatta lived up to the hype by pulling off a triumphant return to Lake Coeur d'Alene over the holiday weekend. An old Lake City staple, the sanctioned hydroplane races were the first real runs since 1968. Despite the 45-year hiatus, several people said it was like the races never missed a beat, as the boats roared, crowds mingled and traffic through the area, though delayed, didn't create a constant roadblock. "I would say it was an epic weekend," said Jim Lien, a spectator who viewed the races tied up to a dock on a boat near the 2-mile race course near Silver Beach. He described the boats, weather and crowds as "great" and was looking forward to next year/Tom Hasslinger, Coeur d'Alene Press. More here. (Duane Rasmussen photo: Two hydroplanes are put into water simultaneously along Silver Beach)
Question: Sounds like the organizers pulled off the Diamond Cup hydroplane races well and deserve another shot next year. What do you think?
---
---