Tue., Sept. 3, 2013, 3:18 p.m.
Johnson: Women Who Work
The Labor Day news has been dominated by strikes at fast food restaurants, essays on growing income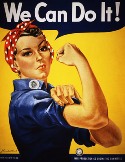 inequality in the United States and even reports about how increasingly unaffordable higher education is going to make the current generation less likely than their parents to climb into a comfortable middle class life. All these challenges, and more, are worth the attention of policy makers and lawmakers was we mark another Labor Day, a holiday created in 1896, by the way, as an olive branch to workers by the anti-labor union President Grover Cleveland. We should also add to our list of policy and societal concerns the continuing challenges and inequality that confront women in the work place. Those fast food strikes aimed at a higher minimum wage are, as Slate points out, mostly about women/Marc Johnson, The Johnson Report. More here.
Question (for the Ladies of HBO): Do you get treated & paid equally at your workplace?
---
---