Tue., Sept. 3, 2013, 2:37 p.m.
Lava Lamp: 50 Years & Counting
Call them '60s relics or hippy home accessories, lava lamps have been casting their dim but groovy light on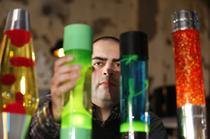 interiors for half a century, having hit British shelves 50 years ago today. A British company began marketing their original creation as an "exotic conversation piece" in 1963. Since then, millions of models of the much-copied invention have been sold worldwide. The design was created by British inventor Edward Craven-Walker, who was inspired by an odd-looking liquid-filled egg timer he saw in a pub in southwest Britain. The former World War II pilot then spent years transforming the concept into a home lighting accessory, having recognized the potential for such an invention during anything-goes '60s Britain/James Brooks, Associated Press. More here. (AP photo: Anthony Voz, a lava lamp expert and collector, poses with some of the lava lamps in his collection in a London shop)
Question: Do you now or have you ever owned a lava lamp?
---
---