Wed., Sept. 4, 2013, 8:51 a.m.
Panhandle Prefers Ducks To Broncos
Just how popular are the Broncos in the Gem State and elsewhere? The folks at social media giant Facebook have an answer — sort of. Late last week, Facebook released its first NCAA college football fan map, similar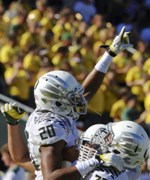 to maps it has done in recent years showing the allegiances of its users to specific NFL and MLB teams. Using the AP's Top 25 preseason rankings, Facebook analyzed how many "likes" each Top 25 team's official Facebook page had in every county in every state. Boise State, which was 19th in the preseason rankings before dropping out altogether this week after being throttled by Washington in the season opener, won the popularity contest in the majority of Idaho counties. But it wasn't a Gem State shutout. Oregon, which dominates much of the West Coast in the Facebook popularity map, also stole some Idaho counties — Camas and Blaine in central Idaho as well as Lewis County and every county north of it/Idaho Statesman. More here. (AP photo: Oregon's Chance Allen (20) celebrates his touchdown run against Nicholls State Saturday)
Question: Are you surprised that the Oregon Ducks are more popular than the Boise State Broncos in the Idaho Panhandle?
---
---