Fri., Sept. 6, 2013, 8:21 a.m.
Organizers Thank Hydro Volunteers
Ask Lee Proctor how many volunteers turned out to help with the races and she'll tell you "not enough." Proctor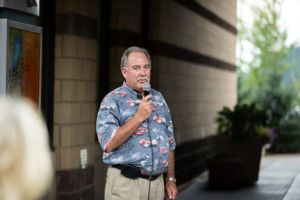 organized the volunteer efforts at the Coeur d'Alene Diamond Cup Race. She got started a little more than two months ago. "We will need more for sure," she said, Thursday. "If you count everyone involved - really we are all volunteers - we had about 300, or somewhere between 250 and 300." Not all of them showed up, but things went well anyway, she said. Organizers of the Coeur d'Alene Diamond Cup held an appreciation party Thursday night for all the volunteers who turned out to make the race a success/Jeff Selle, Coeur d'Alene Press. More here. (Gabe Green's Press photo: President of Diamond Cup Racing, Doug Miller, thanks volunteers of last weekend's hydroplane races Thursday)
Question: Would you like to be a volunteer for the 2014 Diamond Cup hydroplane races?
---
---