Mon., Sept. 9, 2013, 8:11 a.m.
Hucks: Twain's 'Prince' Under Review
In the "Believe It or Not" Department, the Coeur d'Alene School Board will decide whether Mark Twain's "The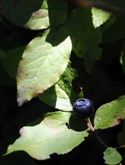 Prince and the Pauper" is appropriate reading in eighth-grade classrooms. Before you dial the district office, however, there's more to the story. Seems the Coeur d'Alene School District is saddled with a policy requiring a review of all novels planned for class consumption. The books are reviewed by an ad hoc committee and then face a 30-day public review. That's the fallout from the 2008 patron outcry, in some circles, against "Snow Falling on Cedars," the award-winning novel by David Guterson, which contained some sexual references. No one has complained about Twain's classic. Yet. And the ad hoc committee has recommended the book for acceptance by the Coeur d'Alene School Board. But it appears that common sense is lacking in district handling of classics like Twain's/DFO, SR Huckleberries. More here.
Question: Should teachers be allowed to decide which books are good for classroom reading (as long as they provide an opt out for families that object to their choices)?
---
---