Mon., Sept. 9, 2013, 5:05 p.m.
Spokane7: A Literary Haul
That photo above represents what I consider to be a good morning's worth of shopping. While looking for a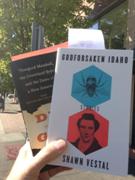 copy of "Devil in the Grove: Thurgood Marshall, the Groveland Boys, and the Dawn of a New America," which won author Gilbert King the 2013 Pulitzer Prize for General Nonfiction, I found myself haunting the shelves at Spokane's treasure of a bookstore, Auntie's. I found a copy quickly enough, yet — naturally enough — decided not to stop there. I'd been putting off, for one reason or another, purchasing my former Spokesman-Review colleague Shawn Vestal's book of short stories, "Godforsaken Idaho." With Shawn's book being a suggested read from one of my book-group members, I figured that moment was as good as any to make the buy//Dan Webster, SR Spokane 7 Dually Noted. More here.
Question: I'm currently reading Vestal's "Godforsaken Idaho," too. What are you reading?
---
---