Fri., Sept. 13, 2013, 8:42 a.m.
Eagles Back Cooking Burgers
The burgers were definitely missed. That was obvious by the mood of those chowing down on them Thursday at the Coeur d'Alene Eagles club on Sherman Avenue. The fraternal organization's long-standing tradition of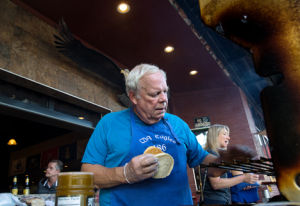 barbecuing hamburgers and hot dogs and selling them on the walkway in front of the club is back in full swing following a hiatus for most of the summer. The love of the Eagles' Thirsty Thursday cookout goes beyond the appeal of a grill, good people and a beer. The money raised through the sale of the burgers, hot dogs and brats to Eagles members and the public is an important source of revenue for the Eagles' charitable endeavors. "It's nice to have it back, with all the money we give away. That was dwindling," said member Jim Alexander, of Coeur d'Alene. "It was sad to see that happening"/Maureen Dolan, Coeur d'Alene Press. More here. (Gabe Green's Press photo: Bill Barlow, a coeur d'Alene Eagles member throws some buns on the grill Thursday during the Eagles' barbecue)
Question: Are you glad to see the Eagles' Thirsty Thursday BBQ return?
---
---