MONDAY, SEPT. 16, 2013, 11:11 A.M.
Edit: Crass Judge Should Resign
District Judge G. Todd Baugh has said he's sorry about the crass comments he made regarding a 14-year-old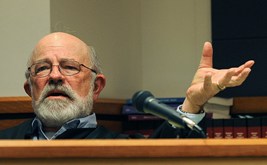 rape victim who later committed suicide, but that's hardly enough. In handing down the sentence for former Billings Senior High School teacher Stacey Rambold last month, Baugh said the teenage victim was "older than her chronological age" and had "as much control of the situation" as the teacher who raped her. He then proceeded to suspend all but 31 days of a 15-year sentence for the teacher. The outrage against Judge Baugh was immediate, and he was profuse in his apologies. In an Associated Press story, Baugh said he was "fumbling around" in court trying to explain his sentence and "made some really stupid remarks"/Daily Inter Lake (Kalispell, Mont) Editorial Board. More here.
Question: Should District Judge G. Todd Baugh resign?
---
---