Mon., Sept. 16, 2013, 3:56 p.m.
Sand Creek Byway Up For Award
The Sand Creek Byway (pictured in SR file photo) is among 10 projects nationwide vying for America's Transportation Award, according to the Bonner County Daily Bee. The 2.1-mile U.S. Highway 95 realignment project in Sandpoint, which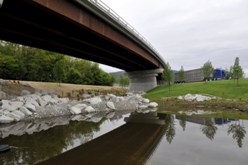 opened in July 2012, was among the most expensive, controversial and complex road projects in Idaho history. Planning for the bypass dates back to the 1940s, but was held back due to concerns about its impacts both economic—local merchants were worried the bypass would direct business away from downtown shops—and environmental—built along a shallow creek, the roadway required six bridges, 65 retaining walls and vast quantities of fill to buttress it against the soft creek bed. All told, the project cost $106 million to build/Jessica Murray, Boise Weekly. More here.
Question: Now that the byway has been open for more than a year, what is your opinion of it?
---
---