A smile sparkled on Cami Bradley's face as she finished her last performance on "America's Got Talent." And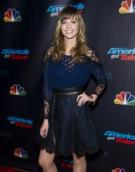 then judge Howard Stern called her a hillbilly from Spokane. But despite the gibe, he also called her a "home run in every area." "She looks like a star, she dresses like a star, she carries herself like a star," Stern, a radio personality, said before the show. "She really is going to have a huge career. If she doesn't win – it almost doesn't matter, because Cami is that good." Bradley is competing for the $1 million top prize on the NBC talent show against several contestants: Collins Key, a magician; Forte, a opera trio; Jimmy Rose, a country singer; Kenichi Ebina, a dancer; and Taylor Williamson, a comedian/Nicole Hensley, SR. More here.
Question: Have you been following Cami Brandley on "America's Got Talent"?