Thu., Sept. 19, 2013, 4:52 p.m.
Pastor: Stewart Revives Nat'l Stigma
In recent months, I communicated that our community has been successfully recovering from the reputation of being discriminatory. This terrible attribute was the result of the Aryan Nation and its wickedness toward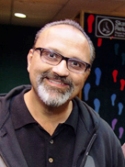 people of color – an evil that is condemned by all who have a good "moral compass". I also told you that the request for the LGBT ordinance may have the potential to revive the national stigma associated with North Idaho. You are making my case. Your recent "My Turn" suggests that a "discussion" about the ordinance will revive our former reputation. I find it odd that in our past discussions we could not see eye to eye about this - and now we agree. Secondly, I also told you that the LGBT ordinance would impose upon the rights of one party or group in order to provide rights to another group or person and therefore does not protect the rights of all people-groups in Coeur d'Alene. In this, we now seem to agree as well/Pastor Paul Van Noy, Candlelight Church. More here. (Coeur d'Alene Press photo, of Pastor Paul Van Noy)
Question: So is the 2013 Coeur d'Alene city elections going to be a rematch between the Christians and the lions?
---
---