Thu., Sept. 19, 2013, 4:31 p.m.
Pearl Harbor Vets Embrace Teen
When Isaac Liljenberg came across his brother's collection of videos about World War II, it sparked an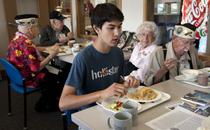 interest in him about those who had served. "I wanted to meet a World War II vet," said the 16-year-old. "I wanted to interview some people." A friend mentioned Ray Daves because the air traffic control tower at Spokane International Airport had been recently named for him. Liljenberg, who is homeschooled, hoped to meet Daves, but Daves died before he had the chance. He decided to attend Daves' memorial service. Afterward, he spotted a group of Pearl Harbor survivors at a table. He introduced himself, offered his condolences and explained his interest in World War II/Cindy Hval, SR. More here. (Dan Pelle's SR photo: Isaac Liljenberg shares lunch with members of the Lilac Chapter of the Pearl Harbor Survivors Association)
Question: Do you know any young people who are interested in World War II?
---
---