Thu., Sept. 19, 2013, 1:58 p.m.
Rolling Stone Applauds UI Pep Band
University of Idaho alumnus Jeff Chambers hadn't even heard the song "Thriftshop" when he was asked last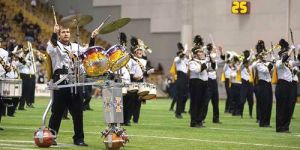 October to arrange it for the pep band. "Truth be told, I'd never heard anything by them," Chambers said of Macklemore and Ryan Lewis, a recent breakout rap duo from Seattle.But almost a year later, Rolling Stone magazine named the cover as one of the "10 Mind-Blowing College Marching Band Cover Songs," alongside songs like "Gangnam Style" by Psy and "Blurred Lines" by Robin Thicke/Elizabeth Rudd, Lewiston Tribune. More here. (Courtesy photo: University of Idaho)
Question: Did you ever play in a high/school college pep or marching band? Which school? Which instrument?
---
---