Thu., Sept. 19, 2013, 1:08 p.m.
Washington Battle Looms Over GMOs
Prepare for an onslaught of ads praising or condemning new labels at the supermarket in a multimillion-dollar battle over genetically modified foods. Campaigns for and against (Washington's) Initiative 522 broke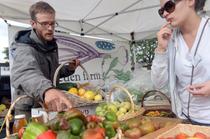 out their first television ads this week in the closely watched fight over efforts to force labeling of foods that contain genetically modified organisms, also known as GMOs. The Yes campaign ads feature a perky "spokesmom" wandering through supermarket aisles, catching a fresh salmon and contending it makes sense to tell consumers about the presence of those ingredients just as current labels explain trans fat, calories or protein content. The No campaign features an array of former state agriculture, legal and medical officials saying this is all unnecessary paperwork, designed to burden farmers and scare consumers away from something they have no reason to fear/Jim Camden, SR. More here. (Jesse Tinsley SR photo: Farmer Patrick Mannhard, left, helps customer Britta Howard choose from among a selection of peppers at the Urban Eden Farm stand at the Spokane Farmers Market)
Question: Are you concerned re: food containing genetically modified organisms?
---
---